We are so excited to welcome volunteers back to Portsmouth Humane!
The first step is to complete the Volunteer Application Form
After your application has been submitted, you will be invited, via email, to attend our monthly Volunteer Orientation!
Volunteering with Portsmouth Humane
Thank you for your interest in volunteering with Portsmouth Humane. Volunteers enable us to save even more lives through keeping our animals healthy and happy. The time volunteers spend with our animals is critical to helping them find their forever homes. Below are a list of volunteer opportunities!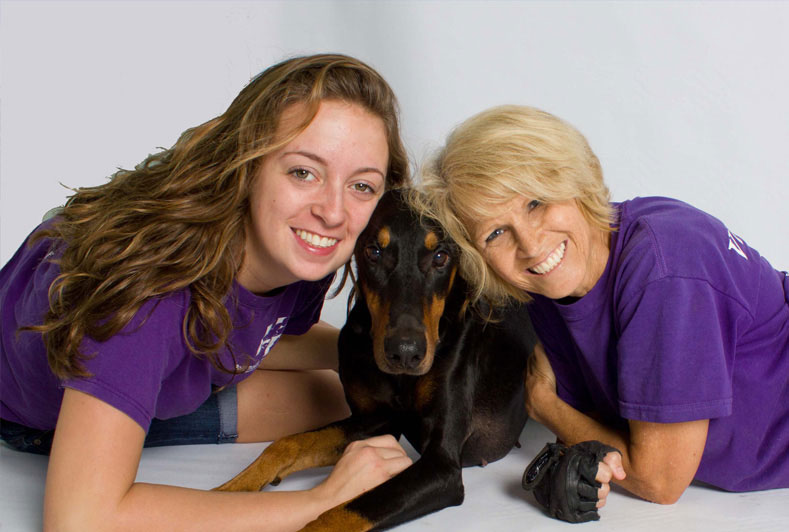 Volunteer Teams
COMING SOON: PLAY GROUPS!
We are honored to have the expert guidance of Dogs Playing for Life to lead our team through our newest enrichment journey: Play Groups! Our goal is to enhance the lives of our shelter dogs by facilitating playgroups every day! To ensure success, we're looking for volunteers to participate in the training, July 12-14. If you're unable to attend in person training, we welcome you to join our Exercise Team! This will help you get to know our staff, the dogs, and our facility, and then we'll be happy to share what we've learned with you!
Exercise Team:
Portsmouth Humane Society is looking for a group of volunteers to be a part of the exercise team!  The staff walks works hard to get the dogs out of their kennels twice daily, but, with volunteer support, we can make those outings longer and more exciting! Volunteers 18 and older are invited to walk dogs on shelter property daily from 2 pm -4:30 pm. Cats need to be exercised as well, of course they do have to remain in the building. Extra exercise for the animals increases adoptions by reducing the stress and anxiety of the animals in our care.
House Keeping Team:
Housekeeping is one of the most important jobs at Portsmouth Humane! There are daily cleaning requirements that need to be consistently worked on in order to keep up with the constant need for clean and comfortable items. We produce piles of laundry while cleaning cages and mountains of dishes because we disinfect all dishes between meals and clean litter boxes daily. Cleaning is needed in both the stray and adopt side of the building.
Shelter Upkeep Team:
All facilities need regular maintenance to remain in working order and PHS is no different! We need volunteers that have talents with plumbing, landscaping, painting, and/or general construction and that can be handy with tools to fix various items around the shelter as needs arise. The time requirements for shelter upkeep vary depending on the task at hand. Guidance, but no formal training will be provided.
Events & Fundraising Team: 
Volunteers are an invaluable asset to us during events and fundraising times. We need volunteers who can attend and help prepare annual fundraisers with us by walking around speaking to people and that can help us get donations for the shelter. Volunteers will help with transporting materials to the event locations, transporting animals, and staying during the events either at the table,  or with a cat or a dog. Both events and fundraising events are continuously being scheduled with PH, and if you would like to help, we can find you some work!
Community Outreach Team:
All animal rescues and non-profit organizations need help with community outreach. Outreach helps spread the word to people of the community about various programs that organizations offer and what the organization does to help the community. We need help with spreading the word that we are here in Portsmouth and that we have programs such as the food pantry and access to discounted vaccines and spay and neuter surgeries etc. This group will have varying hours depending on events/projects going on.
Enrichment Team:  
To keep PHS pets happy and healthy during their stay at the shelter we have to provide enrichment and/or ways to keep their minds active. We are looking for volunteers to help us execute our enrichment plan. Pet photography is also a part of enrichment, the animals need to be photographed in order for potential adopters to see them online. Professional photography skills are not required for this task. The photos are the property of PHS.
Offsite Adoption Center: 
The offsite adoption volunteers encompass what ALL the volunteers do at a smaller scale and do so with less direction. At an offsite adoption center such as PetSmart the volunteers work out a schedule with multiple shifts, clean cages, do adoption paperwork, and talk to the public. Currently we have one adoption center and it is at the Hilltop PetSmart in Virginia Beach.
Paws Around Ptown: Field Trips
Field trips participants are not required to submit a volunteer application. Information, and details on signing up can be found here.
At this time, we are unable to fulfill requests for mandatory volunteer assignments, including court or school required volunteer service.
For questions about volunteering, include group volunteers, please contact volunteermgr@portsmouthhumanesociety.org