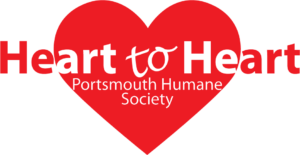 Love is in the air as Valentine's Day approaches—and what better way show love than by helping animals in need? We invite you to be a part of PHS' Heart to Heart program, aimed at raising funds to treat for heartworms in Portsmouth's stray, abandoned, and neglected dogs.
Often, animals are surrendered or abandoned due to expensive medical care the animal needs. Of the most common ailments we find in these dogs, heartworms are one of the most tragic: easily preventable at a minimal cost, but potentially fatal if left untreated. With early treatment, this disease can be stopped in its tracks. Often, shelters and owners are unable to afford these treatments and the dog suffers unnecessarily before succumbing to the disease. At the Portsmouth Humane Society, we are saving the lives of dogs at risk for heartworms through the use of monthly preventatives, annual testing, humane education, and the treatment of those already infected. Annually, we spend over $7,500 dollars on heartworm treatments and monthly preventatives. We can proudly report that 86% percent of animals sheltered by PHS in 2017, including those with treatable illnesses such as heartworms, have been adopted, reunited with their owners, or transferred to a rescue. However, we need your help to extend our success into 2018. For this reason, we are asking you to consider a tax-deductible donation to our Heart to Heart program and support heartworm prevention and treatment.
In this season of love, please help us protect the hearts of those who love us unconditionally. 
To donate:
You may make a donation through PayPal by clicking here. Please add a note that the funds are to be used for heartworm treatment. If you would prefer, we can also process your payment with a credit card over the phone at (757) 397-6004 and, as always, you are welcome to mail your donation to the shelter or deliver it in person to 4022 Seaboard Court, Portsmouth VA, 23701.
Just a few faces of the Heart to Heart Program:
Allegra, a 2-year-old American Shelter Dog, tested positive for heartworm disease and was fully treated before being adopted!
Obi-Wan, a 1.5-year-old American Shelter Dog, was successfully treated for heartworms thanks to generous donations to our Heart to Heart program.
Tahoe, a 6-year-old American Shelter Dog, tested positive for heartworm disease and was able to be treated because of generous donations to our Heart to Heart program. He has since been adopted and is living the good life with his new family!