Community Service Volunteers
(including community service required for school)
If you need to complete community service hours required by your school or organization, you may do them here at PHS. Community service hours are between 8 am and 5 pm on Tuesdays, and 8 am and 12 pm on Monday, Wednesday, Thursday, Friday, Saturday, and Sunday. Individuals performing community service are able to participate in a variety of tasks around the shelter, but will not receive in-depth animal training and therefore cannot interact with animals. Community service volunteers primarily complete cleaning and maintenance tasks. After you have fulfilled your required number of hours, you can transition into becoming a regular volunteer after attending orientation and training. For questions about volunteering at the shelter please contact volunteermgr@portsmouthhumanesociety.org. Be sure to include your full name, your phone number, the organization requiring you to complete community service hours, and the number of hours you need to fulfill.
Adult & Junior Formal Volunteers
Thank you for your interest in becoming a PHS volunteer! There are a few steps you must take in order to begin volunteering with PHS:
1) First, fill out an application. Click here to fill out the volunteer application online! You will not receive any confirmation regarding your application—we just hold on to them once they are submitted until the new volunteer completes training.
2) Once you fill out the application, send an email to volunteermgr@portsmouthhumanesociety.org and schedule a time for a small group orientation at the shelter.
3) After orientation, if you want to continue pursuing volunteer opportunities, you will be provided with more information and training for the specific volunteer teams you are interested in. You will receive a log-in number that will electronically track your hours and you will need to purchase a volunteer t-shirt for $10 at the end of the orientation.
4) If at any point after training you have more questions or need more training you will be directed by the volunteer manager to an experienced volunteer, or a staff member. And that's it! You'll be ready to start volunteering!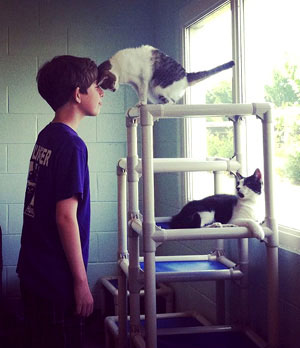 NOTE: You must be 16 years of age or older to volunteer with PHS unsupervised. Individuals between 10 and 16 years of age may volunteer with a trained parent or legal guardian and may be restricted to certain volunteer opportunities.
---
Volunteering FAQs
1) How old do I have to be to volunteer? Volunteers must be 16 years or older to volunteer unsupervised. Individuals between 10 and 16 years old can volunteer with a parent or guardian, and are restricted to certain volunteer opportunities.
2) Where do I sign up for orientation? Send an email to volunteermgr@portsmouthhumanesociety to schedule an orientation.
3) When can I come in to volunteer once I am trained? You will receive a schedule with various shifts that you can choose from that correlates with your volunteer team.
4) Is there a minimum time commitment per month? Yes, we ask that once you are trained and have a t-shirt, you make volunteering a regular commitment. Volunteers need to complete 8 hours a month to maintain an active status. If you go more than 3 months without completing your monthly hours your volunteer status will be changed to inactive, after 6 months of inactivity your volunteer record will be archived. Contact the volunteer manager if an unavoidable absence has/will occur in the near future.
5) Do I need to be present for particular times or shifts? Yes there are shifts we need you to commit to for particular volunteer teams. Volunteers will receive a link to an online calendar to choose their shifts once they have filled out their application and orientation.
For other questions about volunteering at the shelter, please contact our Volunteer Manager at  volunteermgr@portsmouthhumanesociety.org